Every time a passerby passes by, they get a good view of your home. It's very important that the finished product looks incredible.

The porous nature of brick and its textured surface make painting it a challenging task. Leave it to the pros at New Orleans House Painters.

Once you paint your brick, it cannot be returned to its natural color. Make sure you go into the project with the knowledge that the finished product will meet your expectations.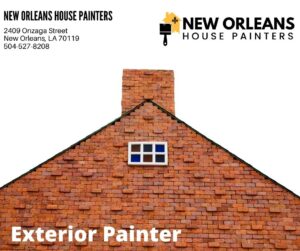 Brick is a popular material for exterior homes. In fact, studies show that people are even willing to pay a premium price for homes built with brick.
Brick doesn't rot or dent, unlike vinyl siding or wood. Brick is made from some of earth's most abundant materials––clay and shale––so you can feel good about building with them.
Safety-conscious homeowners can feel protected knowing that brick is not only flame retardant but is also noncombustible, so they can keep their house safe during an emergency.
They're also more likely to resist wind, hail, or any other natural forces that could threaten the integrity of your home. In fact, some insurance companies might even offer lower home insurance rates for homes with brick exteriors.It is sound proof too! Brick is great at preventing sound from traveling from the inside out, or from the outside in.
Isn't that a pretty impressive list of pros?
They boast durability, sustainability, and safety, but their natural colors leave you with only a few color choices if you don't love their color. Exposed brick walls or fireplaces in a home's interior are even a selling point for some people. The exterior of an old house with weathered or stained brick can look unappealing to the neighbors.
If your home's interior is sleek and modern, then a brick exterior can feel out of place and outdated. Don't worry, a painting project can fix that.
Before you go out and buy a three-tier ladder system and a power washer, know this––painting exterior brick yourself can be a painful process. Brick is porous and soaks up the paint. It's an overwhelming DIY project for the average person, so it's probably best to leave this one to the pros. Every groove and side needs to be considered, so you'd be better off with the pros.
Our New Orleans House Painters team consists of highly experienced painting professionals who can give your brick home's exterior a complete makeover without hassle, headaches, or stress. We are an experienced paint team that offers a top-quality final product you can be proud of and one that makes your neighbors rethink their natural brick.
"The best thing about painting a home's brick exterior is that you can restore an older home's character," says Ernie Connelly with New Orleans House Painters. You are not removing the history or character of the home, you are just bringing it up to a place that is better aligned with the décor of the interior. The exterior and interior should complement each other."
Why You Should Use a Professional Painter
An extensive prepping phase is required to paint a brick exterior. The brick must be cleaned of all dirt, mold or surface contaminants using a power washer with just the right amount of pressure as not to damage the bricks' mortar. Brick needs to be prepped, caulked, and sealed in any areas that might let water in. There are many boxes to check before you paint.
Without the right paint technique and technique to apply the paint, the paint can chip and wear away. Did we tell you it's nearly impossible to reverse painted brick once committed to painted brick? With such a serious commitment, bring in the professionals so everything is done properly for long-lasting results.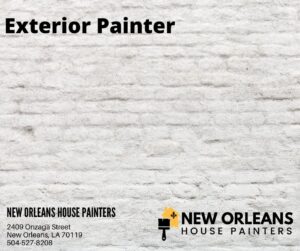 Paint Color Selection as Simple as 1, 2, 3
It is not just one color that you will select when choosing the perfect color to paint your home's exterior. Think of this professional painting project as an overall refresh for the exterior of your home, with the brick being the largest part. Exteriors look best when three colors are used: the main color, the secondary color, and the accent color.
The color you select for your brick will be your main color. We will get into brick paint color ideas later, but this will be a color that will stand the test of time. Consider things like your neighborhood, landscaping, and the decor of your home's interior. If you plan to move in a few years, choose a color with universal curb appeal rather than a bold statement color.
Your secondary color is one that is used in trim details on your house, such as gutters, planters, porch features, windows, railings and the garage door. This is a small area, but the subtle addition of a secondary color can give your home contrast and depth. Typically, this secondary color should be more neutral than the final color in the equation, the accent color.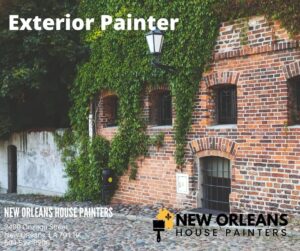 The large front door is the perfect place to show off some personality and experiment with a bold, eye-catching color. Use the accent color to pull in a color that you love but might not be suitable to cover your whole house with. A yellow or red front door will make a statement, but a dark, moody color can also be unique and welcoming. It's all about selecting a color that works for you. After all, you're the one who is going to be walking through that door each and every day. Pick a color that makes you happy!
If you're thinking, "I've never given much thought to the outside of my house. I have no clue what colors would look good," the team at New Orleans House Painters can help. Your house's exterior is always on display, so nailing the color palette is important. New Orleans House Painters offers a color visualizer to see what your home would look like with different color palettes. You can upload your own picture of your house or choose from a library to explore brick paint ideas. Check it out!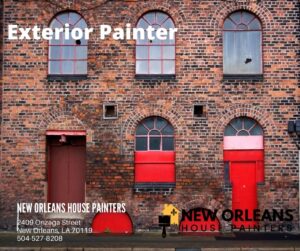 Call the New Orleans House Painters team for exterior house painting services when you're ready to give your home an update. Our estimates are free and our timeline is straightforward. Call to schedule a free estimate today at 1-504-527-8208 or schedule one online through our website.
Paint is not recommended for all homes. You should not paint molded, deteriorating, or chipped brick. Brick in poor condition is more susceptible to moisture that will increase if paint is applied. Expert painters know how to ensure your brick is properly prepared for painting.
If you're seeking ways to improve your home's exterior but want something temporary, New Orleans House Painters provides other exterior services like porch staining, power washing, or even a fresh coat of paint to your front door to get your home ready for the warm-weather months ahead.